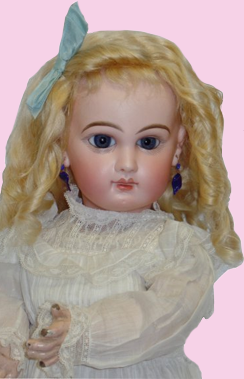 For some people, their doll collection starts when an older person gives them their first doll as a present. For example, a mom gives her toddler a doll and she loves it so much that she wants another… and another…and another. Pretty soon, a little girl has a room full of dolls, or at least several shelves worth, right?

What are some tips for starting a doll collection
Favorite Type of Doll
 For starters, consider collecting one type of doll. You might want to start with the most popular gal: Barbie. You can decide to start buying Barbies that are on the shelves of stores like Wal-Mart right now, in 2019, and grow your collection over the years to come. Or you can decide to look for "vintage" Barbie dolls from yesteryear. You'll want to find ones in good shape for a reasonable price– and ones you like to look at! On Gigi's Dolls website, we have several vintage dolls to choose from, by the way.
Oftentimes, a collection starts with one doll "line," like"all Barbie." But then you see a different doll you like, and your collection expands. This is normal and good. Maybe you collect the entire line of Skippers. Or you branch out to Asian/Anime dolls. A lot of people collect American Girl dolls. And, if you feel like it, mix your doll collection with other collections you can proudly display in a room in your home– you can have a shelf full of dolls, a shelf full of My Little Pony, a shelf full of StarWars, etc.
Start Small and Slow
When you first start, don't feel like you need to buy everything. Start small and slow. Buy things you enjoy looking at, such as dolls that, to borrow a Marie Kondo line, "spark joy." Once you start accumulating a collection, take time now and then to inventory it and truly know what you have on hand. That way you won't buy the same thing twice!
Focus
It's a good idea to have a "focus" for your collection. What do you want to "specialize" in? Maybe it's "vintage paper dolls" or "girls in green dresses." Find your focus and then run with it.
Finally, when starting a collection, do your best to display it with care. Make sure your dolls and other treasures are kept safe from harm(by pets and little kids, mostly), as well as dusted occasionally, and cared for. Rather than just throwing things into a box never to be seen again, it's better to proudly display your collection(s). Put some pride into it, and pretty soon you'll want to show your doll collection off to visitors who will "ooh and aah" over it– nice!