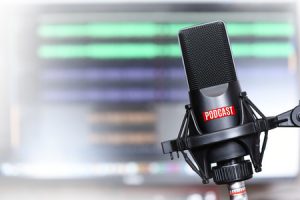 In the old days, families used to gather around the radio to listen to stories. Then came television and movies, and there were pictures with the words. Most recently, the Internet took over everyone's lives and podcasts have become popular– in essence, it's like the days of old, except this time around, it's usually just one person (not a whole family) listening to an audio-only show from their smartphone or tablet (or maybe their laptop or desktop).
Podcasts are accessible at any time from anywhere. You just have to have the right device to get them, and know where they are…
If you're a fan of American Girl dolls, did you know there's a podcast about them? It's here.
The podcast is described as "the series you loved, book by book." Two historians, Allison Horrocks and Mary Mahoney, take listeners on a book-by-book examination of the historical fiction series in a fun and smart way.
American Girl Dolls in Our Culture
The first American Girl dolls came out in the 1980s. They were characters from different historical periods, and each of the dolls had their own corresponding book. Some girls just got the books. Others got both the books and the dolls. The dolls were a lot more expensive than the books!
In the books, the heroines would celebrate their birthdays, holidays, do something summery, make friends, thwart an enemy, and connect with an animal– all things that appealed to readers.
In the American Girls podcast, there are shows about Felicity, Josefina, Addy, Samantha and Kirsten, among others. These characters take the listener to 1820s New Mexico, the Minnesota Territory of the 1850s, or New York City in 1904. The podcast moves chronologically through history rather than in the order the dolls were released.
Listening to the American Girls podcast will help listeners engage with doll culture. It'll get older listeners thinking back to their younger years and how those dolls and stories influenced the people they've become today.
Do you have an American Girl doll? Did you know Gigi's Dolls sells doll clothing that fits American Girl dolls? Check out our current offerings, including a pretty pink gown and a blue floral print dress, here.