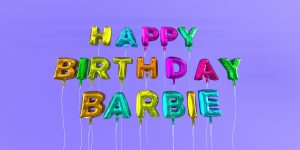 We always like to think of our societal icons in their prime. Take, for instance, Madonna. Would you rather think of her the way she looked in the 1980s or present day? If you're like most people, you think of 80s Madonna, just like you have a specific picture in your mind for people like Marilyn Monroe, Audrey Hepburn, and Jackie Kennedy. Now think about the iconic doll Barbie. What comes to mind? Chances are you remember the first version of her you ever saw, most likely when you were little. For some of you, you might remember Barbie from 60 years ago! Did you know this month she turns 60? And even now, in 2019, she still looks young; she still looks good!
Where did the time go? How is it possible that our beloved Barbie is 60-years-old? Well, doll-wise, she's always younger than that. We don't see a doll with her name that looks 60, and that's fine, right? Barbie looks good in all of her incarnations. She may measure less than a foot tall, but her overall impact on the world is truly larger than life!
In the toy world, most toys come and go. Very few are mainstays of toy stores for decades. Barbie is one of the toy world's mainstays. In fact, she has dominated pop culture for six decades now– she's officially iconic. In the world of female dolls, just try and name another one more popular or more beloved than Barbie.
Back in 1959, Barbie made her debut at the American Toy Fair in New York City. The first Barbie was dressed in a zebra swimsuit and wore stiletto heels. Created by Ruth Handler, who named the doll after her daughter,Barbie helped moms show young girls how to dress, how to be feminine, and how to be successful with boys. At least, that's what her role was back then… today it's a bit different as society has changed. Nowadays, Barbie dolls help young girls imagine careers their own moms and grandmas never would have even considered. And that's a good thing.
Today's Barbie dolls are more diverse than ever– with different skin and hair colors, as well as different body types and careers.This way, there's a Barbie for every young girl to relate to in a "this doll is just like me (or who I'd like to be)" way.
One thing hasn't changed: Barbie can be whatever a young girl wants her to be. Because of that, she'll continue to connect with all sorts of people for the next 60 years and beyond! Congrats Barbie, on turning 60.
If you're looking for vintage Barbies and vintage Barbie accessories, Gigi's Dolls can help.